Around The Block Playwriting Course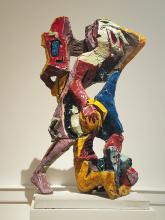 Around The Block will be offering a playwriting course: Principles of Playwriting – what they are and how to apply them.
Topics covered will include:
nature, pros and cons of theatre and playwriting as distinct from other art forms
the audience–play relationship
theater history
Structure of a play
Comedy, farce, tragedy, drama, dramedy, short and long plays, improv
thought/ideas expressed
characters and relationships
dialogue
stage action and spectacle effects
emotion and empathy
formatting, rewriting, feedback, getting produced and/or published
The participatory course (students will focus and receive assistance on their own plays) will be taught by Carlos Jerome. The
fully accessible location
is in Manhattan.
The course will meet each week, Saturdays, 10:30 am – 1 pm, starting in mid to late January, for 15 weeks.
Registration fee will be $375.
Following the course, students' plays will be assigned directors and given a public staged reading.
The course welcomes students at all levels of playwriting experience.
To apply,
send an email containing your contact info and a statement of something you would like to learn to
info@aroundtheblock.org
.
(Send no money at this time.)
Attach (if you have available):
a theatrically oriented resume
a 1 to 5 page segment of a script you have written (if you have never written a script, attach some other writing you have done).